Do you own some Lira Coins? Have you found some forgotten lira coin pieces inside an old purse, drawer or piggy bank and you think they could have a value? The value that the old lira coins may have (those that are classified as rare lira pieces) may astonish you!
How much are this coins worth?
Among the old coins of the lira, small treasures very coveted by collectors is hiding. Some of the old Italian coins are valued even 10 thousands euro. The rare lire coin with the highest value are those that were minted during the 50s. Highly sought after by collectors, these rare pieces of lira coins have a great value especially if they have been kept with the utmost care.
5 lira 1946 "grape" – Value of this Italian Rare Piece Coins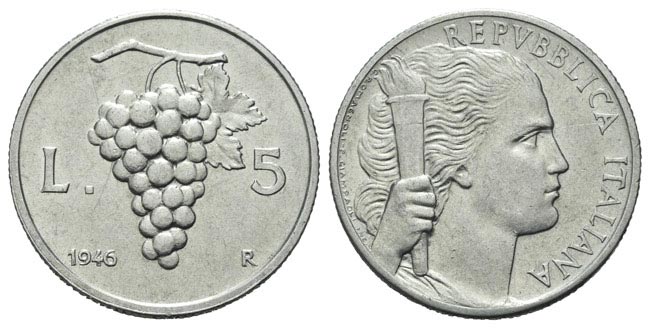 The 5 lira 1946 was the first 5 lire coin minted by the Italian Republic. This Italian coin is easily recognizable because it is depicted a bunch of grapes. Composed by Italma, the first 5 "rare" lira have a size of 26.7 mm in diameter and weigh 2.5 grams.
In 1946 the first trial coin was minted and in the same year they began to circulate.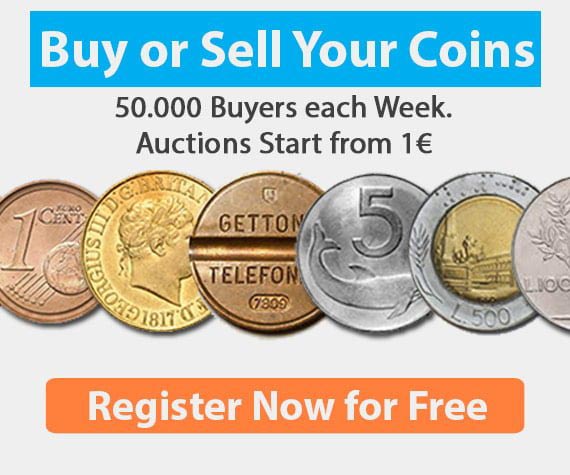 These coins are lire of quite high value. If the conditions are excellent, the 5 lira of 1946 and 1947 may have a value of over 1200 €. The pieces coined in different years could instead have a respectable value , that is about 50 euros.
5 lire 1954, 1956 "dolphin" – Rare Coins for Numismatist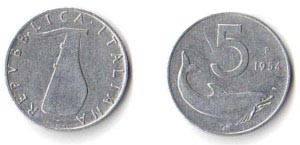 These rare coins were composed of italma and had a diameter of about 2 centimeters and 1 gram weigh. The coins were produced From the year 1951 until 2001. On the rights have the design of the dolphin and on the reverse side a rudder.
The coins minted from 1951 to 1955 have a value of about 8€ because they have been minted in large quantities. Even the 5 lire of 1954 have a similar value. The 5 lire peice that has a bit more value are those of 1951 that bear the inscription "prova" under the dolphin. Since in 1956 only 400 thousand coins of 5 liras were minted, so the value of this coin is very high.
The 5 lire of 1956 have a value that reaches almost 2000€. The coinage of the Italian 5 lire was interrupted in 1957 for 8 years. In 1966-67 the production was resumed and the pieces of that year can be worth around 5€.
The Value of The coins of following years have no greater value than 2€. The 5 lire 1954 do not have a value comparable to that of 10 lire 1954 which we will discuss now.
10 Lire 1954, 1955, 1947 – Rare Coins for Numismatist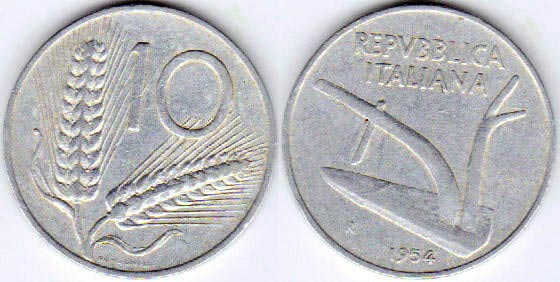 Among the rare currencies of world coins, the 10 Lire of 1954 certainly have a place of honor. They are 10 rare lire, whose value depends on the year of minting.
The 10 liras of 1947 are those most sought after by numismatist collectors, because of their rarity. The value of the lira coins minted in this year can even reach over 6.000€.
A piece of 10 lire 1954 is always rare but not like the previous ones (1947). However, they are an object of desire for many numismatist collectors who safely can pay up to 70€ per piece of coin.
The 10 liras of 1955, on the other hand, are the most common and therefore of lesser value. The value of these italian coins is around 20€ per piece, only if they are in excellent quality and therefore without scratches or wear.
50 lire of 1958 – Rare Coins for Numismatist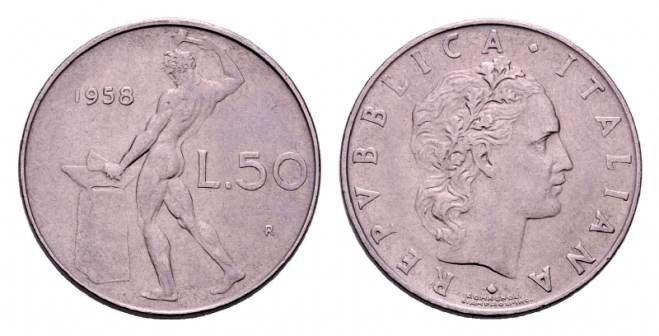 The coinage of Italian 50 lire coins has seen as many as five different types of coins marketed and no commemorative coins. Of all these types and years, (the minting started in 1954 and ended in 2001) the rarest lira piece and therefore the lira coin of greater value is that of year 1958. Even if more than 800 thousand pieces were produced, they are very rare.
Each 50 lire coin with a date lower than or equal to 1960 can be worth from 50€ to over 800€. The 50 liras of 1958, if in perfect condition, have a value of almost 2 thousand euro.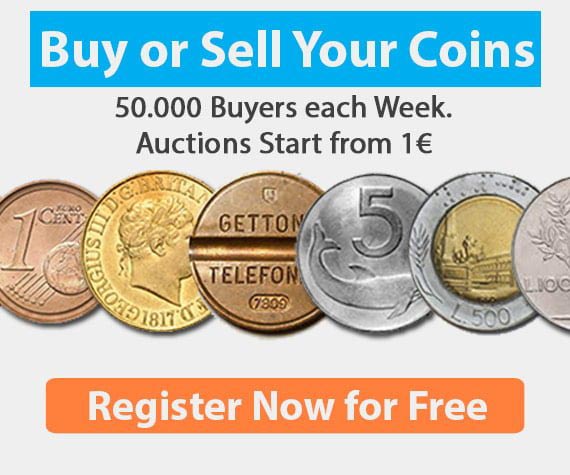 100 lire of 1955 – Value of Italian rare coins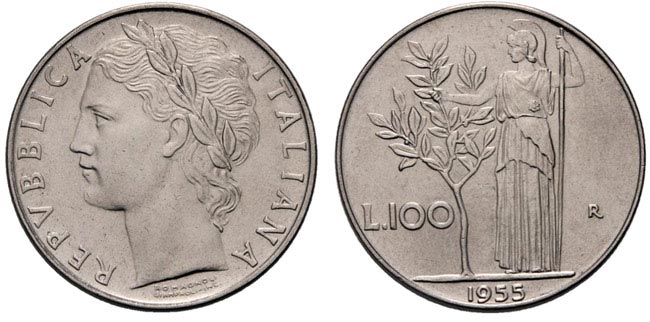 The first 100 lire coin dates back to 1955. Under FDC (mint) conditions a rare piece of that year can be worth around 1000€. If  in excellent condition the value is 120€. In this case the lira piece of greater value are those of the first years of minting, with variations due to the quantity of the production produced.
The rare italian coin of 100 lire of 1956 have a value ranging from 20 to 150€. A 100 lire piece from the year 1957 to 1961 have a value that can reach 600€. The coins from 1962 to 1963 are worth from 100 to 200 € and a piece of 100 lira coins from 1964 to 1967 can be worth about 50€.
Those pieces from 1968 to 1989 have a maximum value of 3 €. The subsequent ones have no value other than that one of year 1972 which has a lack of coinage that could increase its price.
Other Rare and Valuable Lira Coins
There are many different rare lira pieces, in addition to those mentioned in this article so far. All of the following pieces can have a value from 5, 10, 20, 50, 100€ to 500€
The 500 Lira Silver of 1957 – Other rare and valuable coins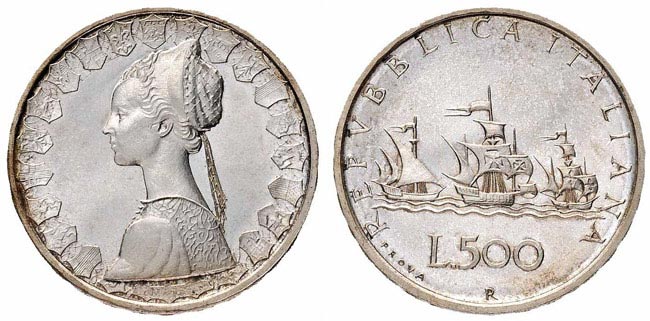 About 500 lire silver coin of 1957 we have spoken in another article (this: 500 lire silver coin). This is one of the best example of collectible coin of great value. Having been produced with very small print runs and also having some peculiarities in the engravings, these rare lire coins exceed the value of the other lira coins and reach stratospheric figures with prices of up to 15 thousand euro.
20 lire 1956 – The value of this lira coins can be very high.
The first production of this piece of rare lira coin is from 1956 and the same design has always been maintained for the following ones. Only the material and the edge of the coin was different There were two types, in fact, smooth and striped. The coin of that year was withdrawn and merged for unknown reasons and can not be collected.
A part of these coins, the 20 lire of 1956 marked with the "test" was kept and given to the employees of the mint.
Today it can also be worth more than 300€ per piece. The 20 lire of 1968, however, considered in any case rare, are valued if in excellent condition about 80€s. The "proof" coin of 1968 has a good quotation of 800€.
50 Lire 1956 with Vulcano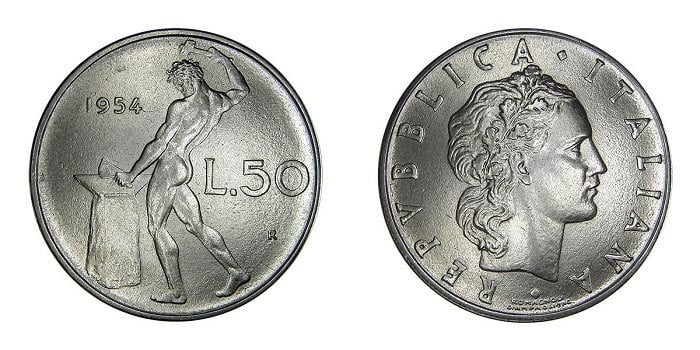 This rare coin depicts on the reverse a naked Vulcan striking the metal at the anvil, while on the obverse of the coin is the oak-crowned head and the inscription "Republica Italiana".
In excellent condition this coin can be worth from 20 to 50 € while for FDC (mint) specimens the 50 lire of 1956 come to a quotation that starts from 90 up to 110 €
100 Lire 1956
Since this piece is also a 100 lire coin minted in the initial years, its value is greater. The 100 lira of 1956 are quoted between € 120 and € 150 if quality Mint. The coins of lower quality but still in excellent condition (beautiful) are worth about € 18-20.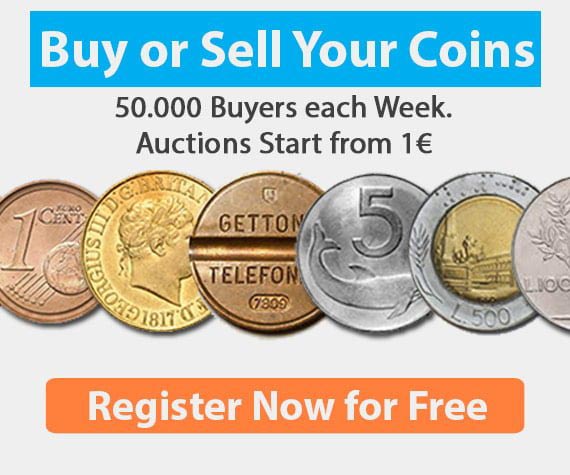 You did not find what you were looking for? Check these topics:
[Total:

6

Average:

2.8

/5]